Garden Home-Whitford Real Estate Guide
ALL ABOUT GARDEN HOME-WHITFORD

Garden Home-Whitford is a close-knit southwest Portland suburb near Beaverton with great community,
shoppng and dining, and a family friendly suburban feel, located just minutes from Portland. The area is comprised of the neighborhoods of Garden Home and Whitford in Washington County, located adjacent to Portland in the Southwest Hills. The Garden Home-Whitford area has a population of over 7000, and offers the convenience of a reasonable commute along with the laid back, natural environment of a suburban town. Numerous nature trails and environmental preserves create an oasis of green within the city limits, including Garden Home Park and Moonshadow Park. Garden Home is also close to world-class golf courses, including Red Tail Golf Course. Garden Home features homes in the cool shade of mature trees, established neighborhoods with older homes in a variety of styles, and a comfortable family friendly feel. Many homes for sale in Garden Home have lush, green lawns and larger lots than other areas of town, giving a taste of rural life within the city.
GARDEN HOME-WHITFORD HISTORY
Though the Garden Home post office was established in 1882, Garden Home became an established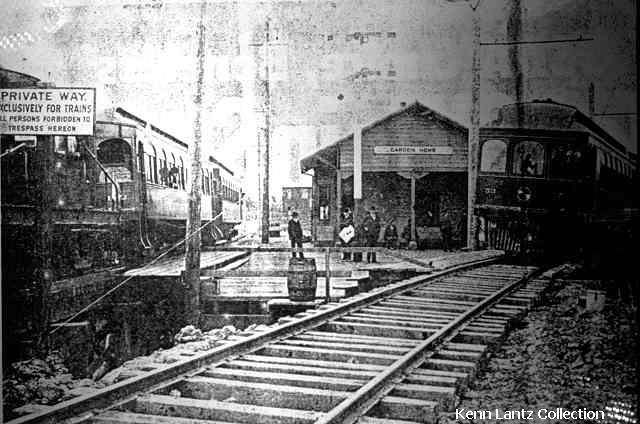 community when the Oregon Electric Railway was built at the beginning of the 20th century. Whitford was a station on the same line, located at the present-day intersection of Allen Road and Scholls Ferry Road - the name was created by combining the names of W. A. White and A.C. Bedford, New York investors who were directors of the railway. Whitford station closed when the railway stopped running around 1920, and unlike Garden Home, which became the name of a Portland suburb, Whitford exists today primarily as the name of a Beaverton middle school. Now, the Garden Home area is one of the few places where the City of Portland lies outside of Multnomah County.
GARDEN HOME-WHITFORD LOCATION

Garden Home is located off Hwy 219 in the Southwest Hills of Portland. The area is filled with tall trees, rolling hills and lots of natural beauty - you'll be sure to find farms with animals, orchards, and the best Oregon berries. Garden Home is located in Washington County near Beaverton, West Slope, Progress, and Raleigh Hills.
GARDEN HOME-WHITFORD REAL ESTATE AND HOME STYLES
Garden Home features many beautiful homes with well-tended green lawns and large lots shaded under
mature trees, with easy access to neighborhood amenities. Garden Home features many homes built from about the 1940's through 1980's although a few older and newer homes are mixed in. Typical home styles include broad ranches from the 60's and 70's, some contemporary, and some two-story traditional, "Old Portland" designs.
If you are interested in buying or selling a home in Garden Home-Whitford, check out our Portland Real Estate Home Page for more information about the McDonald Group Realtors and visit our Portland Real Estate Map.
GARDEN HOME-WHITFORD NEIGHBORHOOD RESOURCES
Garden Home Community Library - the Garden Home Community Library began in 1983 when Tualatin Hills Park and Recreation District took over a closed elementary school and made space
available to local volunteers to organize and operate a library. The initial collection was focused on books for preschool children. In July of 1996 Garden Home became the twelfth public library in the Cooperative Library Services. A 2004 expansion doubled the library space to 1,860 square feet.
Moonshadow Park is a 4.76-acre park straddling approximately 1500 feet of the middle reach of Ash Creek. The park is located within a highly developed area, surrounded by single-family residences, in Fanno Creek sub-basin of the Tualatin River watershed.
GARDEN HOME-WHITFORD SHOPPING
Beaverton Town Square - A quaint outdoor shopping center in the heart of Beaverton. Here, you'll find many unique stores that will satisfy anyone's taste and personality, not to mention wide variety of restaurants and eateries. Beaverton Town Square, a family fun place to shop, eat or sit down and visit.
FAVORITE GARDEN HOME AREA RESTAURANTS
Ernesto's Italian - 8544 Southwest Apple Way, Portland, OR - Family-owned restaurant for traditional Italian dishes, pizza, pasta and an express lunch buffet. Building on his family's traditional Italian recipes, Mike has added his own creations such as Seafood Fettucini & Pasta Classico. While the offerings have evolved a little over time, you can count on finding generous portions of homemade Italian food in a comfortable environment.
La Prima Trattoria - 4775 Southwest 77th Avenue, Portland, OR - Experience Southwest Portland's
premiere Italian restaurant, La Prima Trattoria, in the heart of Raleigh Hills. Specializing in simple authentic Italian pasta dishes and Neopolitan wood oven pizza, we also have an extensive fine wine list and full bar.
Copper Monkey Restaurant - 6540 Southwest Fallbrook Place, Beaverton, OR - The Copper Monkey is a full service restauraunt and full service bar wtih Mississippi-style ribs, marvelous island-style Mai Tai's, spicy Bourbon Street Pasta, and a host of other fabulous entrees, burgers, and terrific pizzas.
Burgerville, USA - 9385 Southwest Allen Boulevard, Portland, OR - Oregon's own fast food chain that prides itself in using the best that Oregon has to offer, from sustainably raised beef and locally produced cheeses to the best berries, sweet potatoes, pumpkins, and onions for seasonal treats.